Search found 10 matches for 4x100
#Weds
#Leonis
AS
Price: $425 plus shipping
17x7J +53 ( ALL FOUR )
PCD
#4x100
.
Hub Bore: 62mm
Center Caps
WEDS Valve caps
No Trades
No Tires
Location: Japan,
Shipping:World Wide
Payment: Paypal
Contact:
TeamMNR@yahoo.com
-Wheels are perfect structural shape. No cracks or bends.
-Very superficial curb rash in a few spots.
-Some underlying blemish on the face and lips show throw but still decent as pictured. Clear coat is botched in a few spots.
I have for sale a set of
#14x6
+6
#4x114
.3
#Yokohama
#Advan
#A3A
old school
#wheels
made in Japan. The faces and lips are
#polished
and the
#spoke
windows, lug pockets, and embossed "ADVAN" letters are flat
#black
. The wheels are in excellent condition with no
#cracks
or
#bends
, have brand new
#stainless
gold
#finish
hardware, and come complete with all four center caps. A
#4x100
bolt pattern was drilled out approx. 10mm deep behind the faces to help accomodate stock lug stems as long as 25mm protruding out from
#4x100
to
#4x114
.3 adapters as small as 15mm. The center caps were dull and pitted with road grime over the years so they were sanded and
#Plastidipped
flat black to add some contrast with the
#polished
finish.  The Plastidip on the center caps isn't perfectly smooth but it can be fixed with some thinner or removed and redone whatever finish/color if desired. $1000
#obo
.
#Sold
as is, no
#trades
, cash only, local pickup only, and I will not be held responsible for incorrect fitment due to buyer negligence...no exceptions. If you'd be interested in buying them send me a PM. My name is Glenn.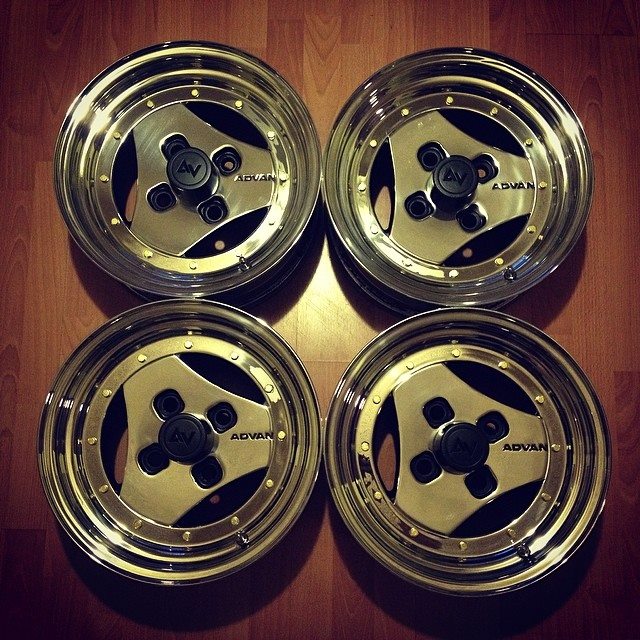 I have a rare set of authentic
#volk
#ce28n
for sale. Specs:
#17x7
.5 +43
#4x100
. Wheels are mint and garage kept since I bought them. Center caps included. Tires will need to be replaced. Price is $2200
#firm
. Located in NY. Willing to ship if you pay all fees. Will trade for 17s
#5x114
.3, looking for ce28n, te37, te37sl, rpf1, ccw. AUTHENTIC WHEELS ONLY. Email me at
Turcios9496@live.com
or text me at (516)669-4731. More pics upon request. Thanks.
Sell a set of 18*8.5
#RacingHart
#C5
3 Piece they are
#5x114
.3-
#5x100
/
#4x114
.3 -
#4x100
asking $800 for them then need to be cleaned up its all cosmetic. i was going to but them on my car but lost interest in them i did start to strip the crappy powder coat off them. The tires will need to be replaced to they are cracking. location in maryland
These are the
#Work
#VSXX
#17x7
.5 +32
#4x100
on
#Hankook
v12 205/45/17 BRAND NEW V12s Purchased 2 weeks ago. Spent $500 for tires and installation.
I will throw in a full set of Yoko S Drives 205/40/17 for free. about 40% tread.
Rare
#4x100
#VSXX
that you cannot custom order or find anywhere anymore.
$1500. Priced to Sell!
$1300 without the extra set of yoko s drives.
Search found 10 matches for 4x100